Details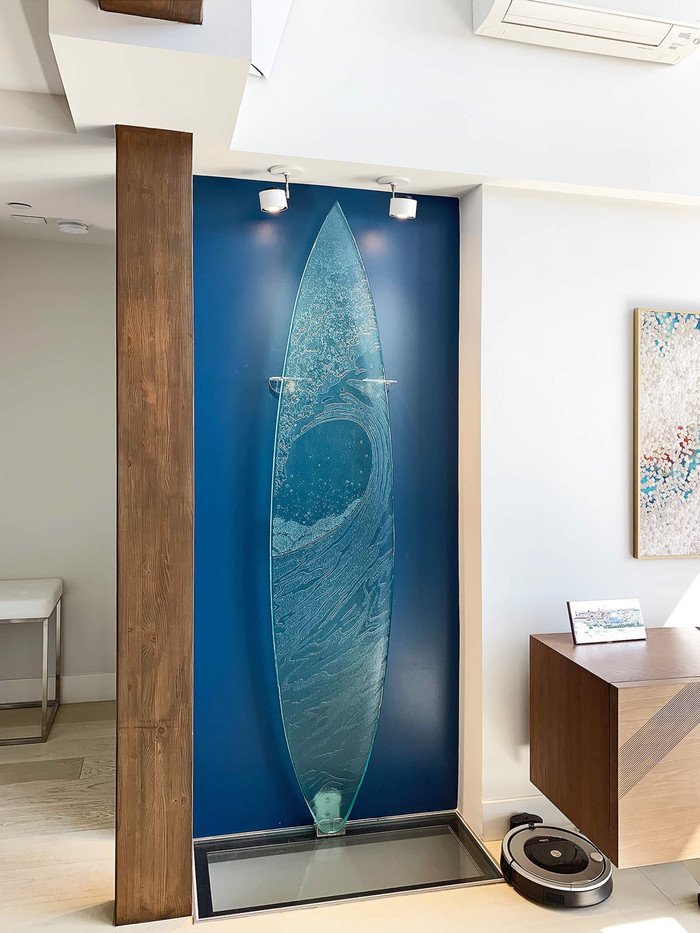 Cast Glass Surfboard Wall Art
Hand Made Cast Glass Surfboard Wall Art Custom Designed and Produced by Jay Hoyt Curtis
I made this solid 1-1/2" thick glass surfboard for a niche space in a California beach home. The board is 20 inches wide at the waist and 7' 8" long. It is a big wave gun shape, typically used in the bigger waves at places like the north shore of Hawaii and Mavericks in northern California.
I designed this "breaking wave" glass surf board to depict a barrel coming at you as you gaze back into the curl. The wave design has relief that you can feel as you run your hand over it. The relief lets the design glow along it's edges as the lights above wash over it, and it highlights the churning foaming action of the breaking wave.
This design will be the first in a series of different classic surf board shapes with my original designs etched or cast into them. Contact me here if you would like one of your own.
Seals Swimming in a Kelp Fores...

2021-06-07

I was recently commissioned to create a pair of custom etched glass sidelights that I titl...

Read more about this project

Ocean Wave Shower Divider in E...

2020-08-21

Glass ocean wave shower divider made by waterjet cutting and etching Jay created this mas...

Read more about this project

Cast Glass Sea Kelp Window wit...

2018-03-07

Cast Glass wall sculptural piece titled "Sea Kelp Window with Bubbles" This sea kelp wind...

Read more about this project

Metal Sculpture of a Sakura Tr...

2019-03-15

Water Jet Cut Metal Sculpture by Art Glass and Metal Studio I was commissioned to create ...

Read more about this project

Etched Glass Bathroom Wall Div...

2022-03-30

An Attactive Etched Glass Bathroom Wall Divider That Evokes Stone and Water I create...

Read more about this project

Huge Black Glass Photo Etching...

2020-02-08

Very Large Photo Etching by Art Glass and Metal I created this custom large format photo ...

Read more about this project

Large Metal and Glass Barn Doo...

2020-05-27

I created these large metal and glass barn doors to give optional privacy between a large ...

Read more about this project

Cast Glass Hawaiian Wave Break...

2021-06-08

This giant glass Hawaiian wave began life as a hand drawn illustration by the artist Jay C...

Read more about this project