Details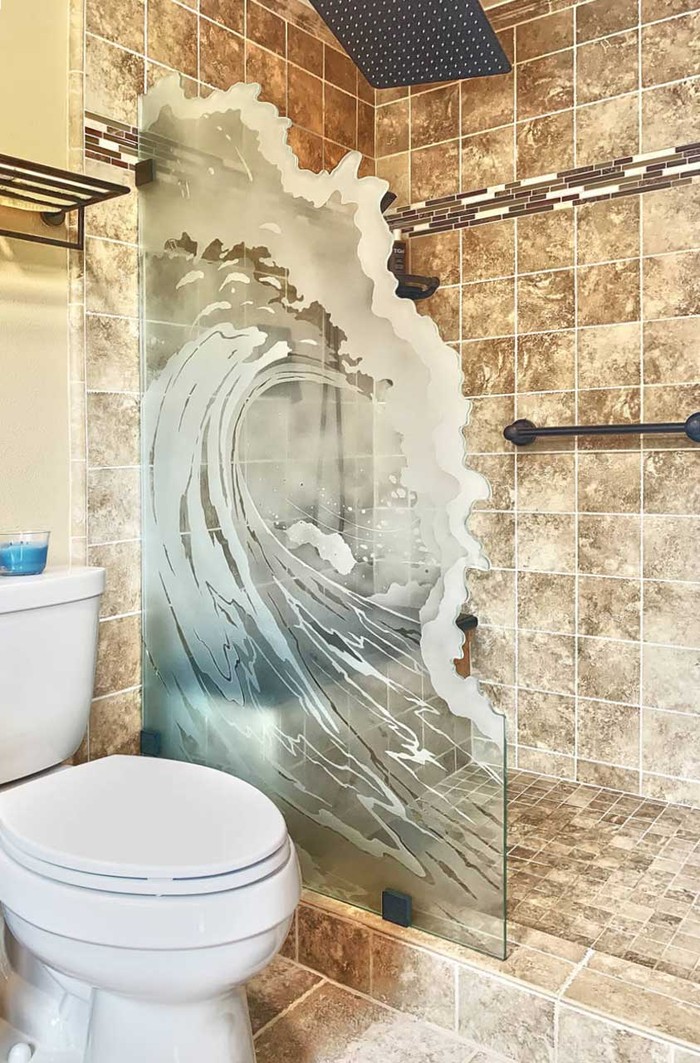 Orange County Etched Glass, Cast Glass and Metal Installations
Orange County Etched Glass and Cast Glass by Jay Hoyt Curtis
Throughout his distinguished career, Jay Hoyt Curtis has created some amazing works of etched glass, cast glass, and glass and metal art for installation in homes and businesses across southern California and beyond. In coastal Orange County this includes Newport Beach, Laguna Beach, Laguna Niguel, San Juan Capistrano, and San Clemente, to name a few.
Jay's Orange County etched glass and cast glass art designs have springboarded a widespread appeal along the whole west coast of America. This should come as no surprise; each work is fueled by his personal love of the ocean and the breathtaking scenery that abounds here. California's stunning natural beauty provides a constant source of inspiration and motivation for the artist.
Many of his glass and metal artworks include his unique interpretations of aquatic wildlife, including etched glass sea turtles (Jay's personal favorite), whales, dolphins, fish, and birds such as pelicans, osprey, and seagulls. And though he loves depicting wildlife, Jay is also well known for his mages of breaking waves that put you right inside the tube, placid ocean scenes, bays, beaches, coastal bluffs, and mountains, or even abstract art to evoke whatever aura you are after.
And all along the way, exquisite detail is possible thanks to Jay's mastery of glass casting, slumping, and glass etching at various stages of the production process. This mastery is evident in his expansive resume of etched glass windows, etched glass doors, etched glass gates, and glass artworks of all types.
Go here to see full screen slide show galleries of Jay's works in glass casting/slumping, here for glass etching and sandblasting, and here for custom metal designs for doors, gates, entryways, and artworks.
---
Cast Glass Exterior Gate in Laguna Beach
Jay designed and created this stunning work of functional art for a private home in Laguna Beach, California. The nautilus shell motif on this piece is a fine example of Jay's expertise at creating captivating aquatic themed art, and it combines beauty, functionality, and a level of privacy with a sense of openness.
The level of detail is truly wonderful and needs to be seen up close. Click the image to see it full screen: you may just find yourself lost in this serene and captivating underwater scene.
The structural details include 1/2" thick tempered cast glass and frameless mounting on a custom made galvanized steel framework.
---
More Orange County Etched Glass - A Glass and Metal Gate in Newport Beach
Picturesque Newport Beach is the home of this cast glass and metal gate "Abstract Schooling Fish and Cursive Flows" with galvanized posts that Jay designed and manufactured. With its flowing curves and natural allure, this stylized ocean scene epitomizes life in coastal Orange County.
The combination of etched glass fish designs on a cast glass background is a perfect example of Jay's ability to employ a variety of techniques to bring depth and vibrance to his work. Nature's allure lies in its abundance and endless variety, and Jay's mastery of a wide variety of tools and processes helps bring this abundance and variety to life in his art.
---
More of Jay's Orange County Etched Glass Nautical and Aquatic Themed Artworks