Details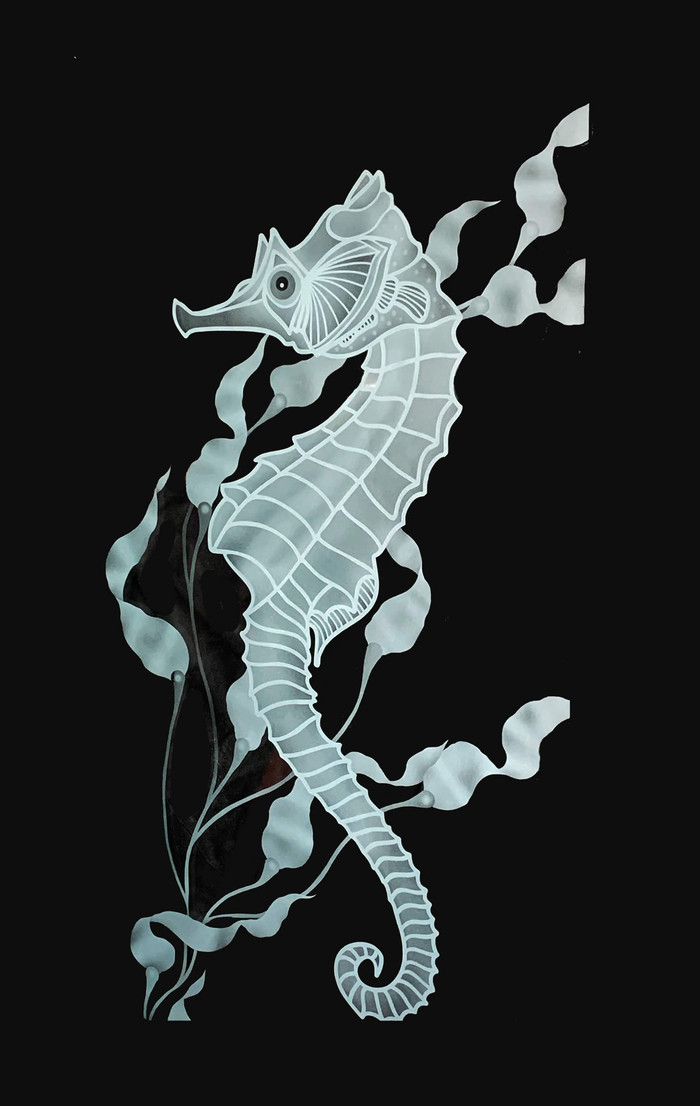 Etched Glass Seahorse Themed Shower Door Panel
This client wanted an etched seahorse themed panel for a shower stall. I was given some leeway in the design, so I came up with a stylized kelp design background to flow with the seahorse.
The size of the door panel is 22.75" x 42.50 inches (the etched seahorse itself is 30 inches tall). The finished piece is quite striking and adds an alluring aquatic ambiance to this bathroom setting. The piece was done on clear glass, and I photographed it against a black background to really show off the etching.
Contact me here if you would like a unique piece of glass art for your own home or business.
Etched and Cast Glass Gate Pan...

2021-03-24

The people of coastal Orange County - including Laguna Beach - generally have a deep appre...

Read more about this project

Etched Glass Plaque Commemorat...

2021-03-11

I was recently commissioned to design and create a large commemorative etched glass p...

Read more about this project

Etched Glass Sidelight in Lagu...

2021-03-30

I was recently commissioned to create an etched glass sidelight for installation in the en...

Read more about this project

Cast and Etched Glass Dolphin ...

2018-03-07

Etched glass dolphins on a cast glass privacy wall I designed and produced this wonderful...

Read more about this project

Etched Glass Donor Plaque for ...

2021-03-18

I was commissioned by the Scripps Institute of Oceanography to create this commemorat...

Read more about this project

Cast Glass Ocean Wave Courtyar...

2019-04-13

Custom Designed Courtyard Gate with a Cast Glass Ocean Wave Theme I designed and created ...

Read more about this project

Etched Glass Seascape Backspla...

2022-07-12

A Wave Crashes Into This Custom Etched Glass Breaking Wave Backsplash Meanwhile a Seal an...

Read more about this project

Cast Glass Surfboard Wall Art...

2020-05-22

Hand Made Cast Glass Surfboard Wall Art Custom Designed and Produced by Jay Hoyt Curt...

Read more about this project