Latest Projects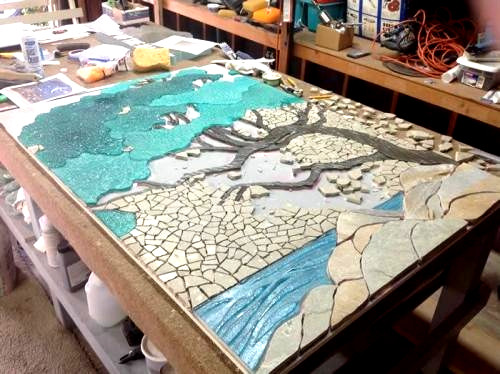 Jay understands that enjoying the process is key to creating glass and metal artworks that inspire the imagination of the viewer. Here you will get a "behind the scenes" view of Jay's creative process with glass casting, glass etching, slumping, metal working, and more.
The manufacturing and design process for architectural glass components often varies from piece to piece, but always keeping in mind the core steps required to create an artwork that is not only visually stunning, but structurally sound. A well made work of glass art will stand the test of time when exposed to the elements, and the time and expense invested will pay off for years or even decades, creating a timeless and long-lasting impression.
The processes you will see on these pages inlcude tack fusing, glass slumping, laser cutting, water jet cutting, glass etching, stained glass designs, and more. Jay's art glass designs typically begin with a hand drawn illustration, and are often combined with computer generated graphical elements when needed. We think you'll agree that the end results are stunning!
Details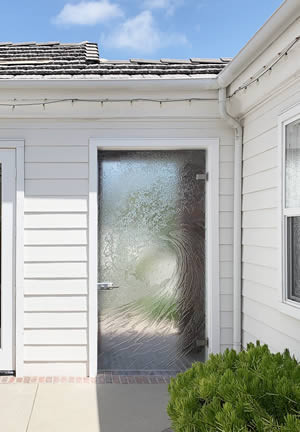 I designed and created this cast glass courtyard gate with a breaking ocean wave motif for a private residence in San Diego. It measures 95" x 47" and has a locking mechanism for security, and it functions as a gate or door leading into an entryway courtyard. The ocean themed art is an homage to San Diego's picturesque coastal scenery.
Details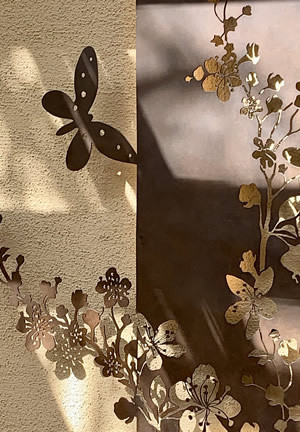 Water Jet Cut Metal Sculpture by Art Glass and Metal Studio
I was commissioned to create a sculpture of a Japanese cherry tree (Sakura tree) to hang in the courtyard of a beautiful Spanish home in the Mission Hills area of San Diego.
Read more: Metal Sculpture of a Sakura Tree (Japanese Cherry Tree)
Details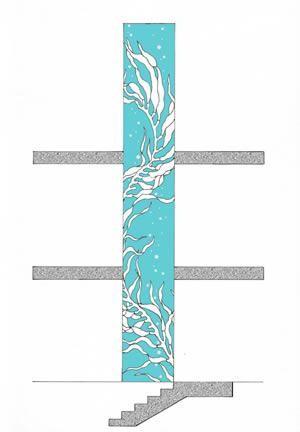 Cast Glass wall sculptural piece titled "Sea Kelp Window with Bubbles"
A purely sculptural piece just for art's sake.