Works in Progress and Latest Projects by Jay Hoyt Curtis of Art Glass and Metal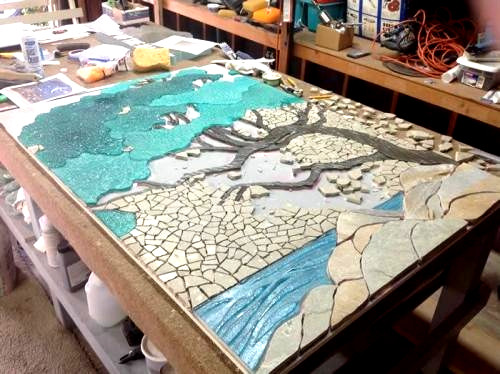 Jay understands that enjoying the process is key to creating glass and metal artworks that inspire the imagination of the viewer. Here you will get a "behind the scenes" view of Jay's creative process with glass casting, glass etching, slumping, metal working, and more.
The manufacturing and design process for architectural glass components often varies from piece to piece, but always keeping in mind the core steps required to create an artwork that is not only visually stunning, but structurally sound. A well made work of glass art will stand the test of time when exposed to the elements, and the time and expense invested will pay off for years or even decades, creating a timeless and long-lasting impression.
The processes you will see on these pages inlcude tack fusing, glass slumping, laser cutting, water jet cutting, glass etching, stained glass designs, and more. Jay's art glass designs typically begin with a hand drawn illustration, and are often combined with computer generated graphical elements when needed. We think you'll agree that the end results are stunning!
Details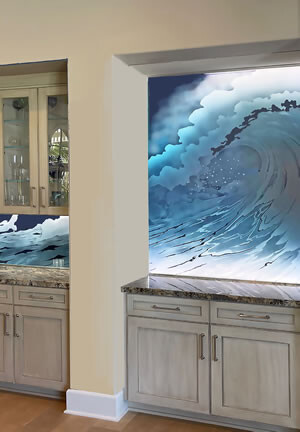 A Wave Crashes Into This Custom Etched Glass Breaking Wave Backsplash
Meanwhile a Seal and Pelican Brace for the Breaking Wave
I was honored to be commissioned to design and create this stunning etched glass seascape backsplash for a coastal home in Newport Beach in Orange County, California. Coastal Orange County has a very high percentage of gorgeous custom homes, and many home owners here appreciate fine hand made works of art that are both beautiful and functional. I am pleased to have had the opportunity to create something truly unique for this fine home.
Read more: Etched Glass Seascape Backsplash With...
Details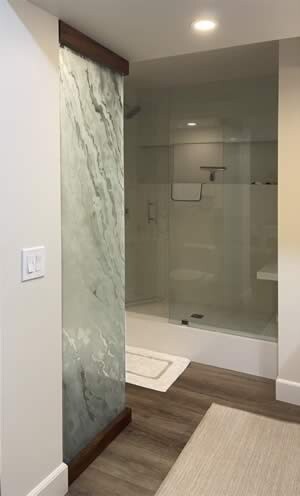 An Attactive Etched Glass Bathroom Wall Divider That Evokes Stone and Water
I created this etched glass bathroom wall divider with an abstract marble look for a home in Newport Beach in coastal Orange County. The frameless glass panel is seated into a walnut base and header and is installed between the toilet and the sink area to add beauty and privacy to this bathroom.
Read more: Etched Glass Bathroom Wall Divider...
Details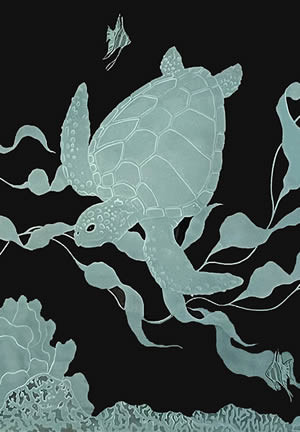 An Etched Glass Backsplash with a Tranquil Aquatic Scene
I was commissioned to design and create this etched and deep carved glass backsplash for installation in a residence in the coastal Orange County city of Laguna Niguel. The glass backsplash is 10 feet long by 3 feet high and is 1/2" thick tempered glass for code and safety.
Read more: Etched Glass Backsplash with Sea...
Details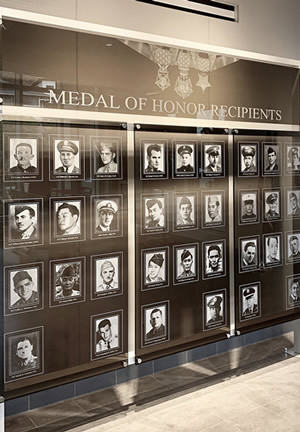 This etched glass veterans memorial was designed and fabricated for installation at the National Cemetery of the Pacific on the island of Oahu in the Hawaiian Islands. The memorial consists of etched photographs of the 33 Medal of Honor recipients who are buried there. There are 4 large warm bronze panels standing of of a metal framework.
The overall size of the piece is 8 feet tall by 8 feet wide. Along with the 33 etched photos are the 3 Medal on Honor Medals for the Army, Navy and Air Force etched onto the large top bronze glass panel.
Read more: Etched Glass Veterans Memorial...
Details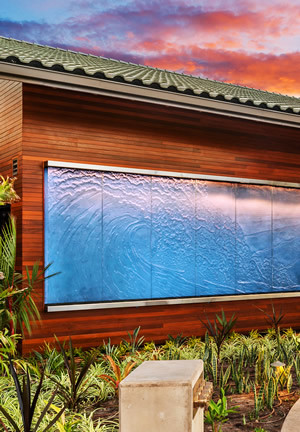 This giant glass Hawaiian wave began life as a hand drawn illustration by the artist Jay Curtis. It was custom built right here in Carlsbad, California from Jay's original design for installation at a resort hotel in the Hawaiian islands.
Read more: Cast Glass Hawaiian Wave Breaking...
Details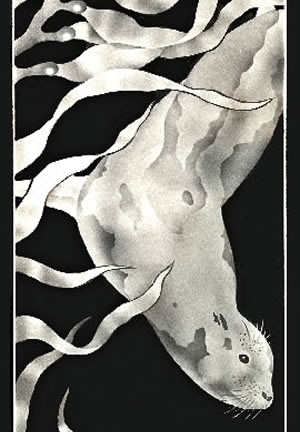 I was recently commissioned to create a pair of custom etched glass sidelights that I titled "Seals Swimming in a Kelp Forest".
I designed and created these etched glass side lights for a coastal home in San Diego. I used subtle etched shading techniques to give intricate detail to these sea life forms for this beautiful entryway project.
The home owners felt that privacy was not an issue in this location, so the etched glass images on clear glass allow plenty of light into the home while providing nice views of the large front yard.
Read more: Seals Swimming in a Kelp Forest |...
Details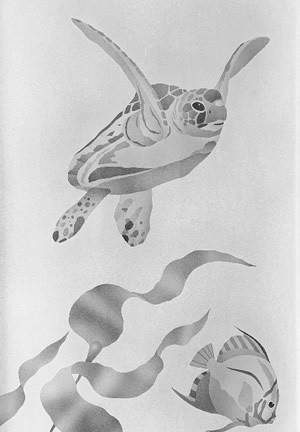 I was recently commissioned to create an etched glass sidelight for installation in the entryway of a home in Laguna Beach, California. The client wanted an etched glass window next to their front door which would provide privacy, and they wanted it decorated with an ocean themed scene. I explained that I had some designs where I could etch the background solid for privacy and shade in the designs to provide the level of privacy they were looking for.
Read more: Etched Glass Sidelight in Laguna Beach...
Details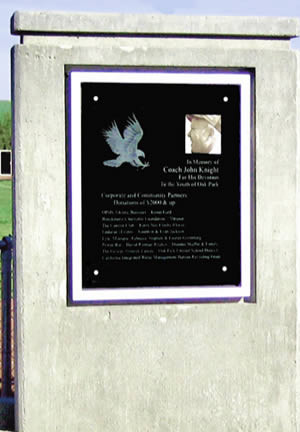 I was commissioned to design and create this etched glass memorial featuring black glass plaques to commemorate "Coach Knight", the long time football coach at Oak Park High School in Westlake Village area.
Read more: Commemorative Etched Glass Memorial...
Large Metal and Glass Barn Doo...

2020-05-27

I created these large metal and glass barn doors to give optional privacy between a large ...

Read more about this project

Cast Glass Ocean Wave Courtyar...

2019-04-13

Custom Designed Courtyard Gate with a Cast Glass Ocean Wave Theme I designed and created ...

Read more about this project

Ocean Wave Shower Divider in E...

2020-08-21

Glass ocean wave shower divider made by waterjet cutting and etching Jay created this mas...

Read more about this project

Etched Glass Bathroom Wall Div...

2022-03-30

An Attactive Etched Glass Bathroom Wall Divider That Evokes Stone and Water I create...

Read more about this project

Commemorative Etched Glass Mem...

2021-03-24

I was commissioned to design and create this etched glass memorial featuring black glass p...

Read more about this project

Waterjet cut metal wall sculpt...

2018-03-07

Custom designed and manufactured waterjet cut metal wall sculpture This waterjet cut meta...

Read more about this project

Etched Glass Sidelight in Lagu...

2021-03-30

I was recently commissioned to create an etched glass sidelight for installation in the en...

Read more about this project

Cast Glass Hawaiian Wave Break...

2021-06-08

This giant glass Hawaiian wave began life as a hand drawn illustration by the artist Jay C...

Read more about this project