Works in Progress and Latest Projects by Jay Hoyt Curtis of Art Glass and Metal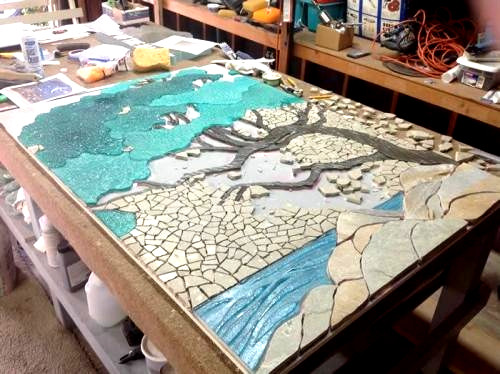 Jay understands that enjoying the process is key to creating glass and metal artworks that inspire the imagination of the viewer. Here you will get a "behind the scenes" view of Jay's creative process with glass casting, glass etching, slumping, metal working, and more.
The manufacturing and design process for architectural glass components often varies from piece to piece, but always keeping in mind the core steps required to create an artwork that is not only visually stunning, but structurally sound. A well made work of glass art will stand the test of time when exposed to the elements, and the time and expense invested will pay off for years or even decades, creating a timeless and long-lasting impression.
The processes you will see on these pages inlcude tack fusing, glass slumping, laser cutting, water jet cutting, glass etching, stained glass designs, and more. Jay's art glass designs typically begin with a hand drawn illustration, and are often combined with computer generated graphical elements when needed. We think you'll agree that the end results are stunning!
Details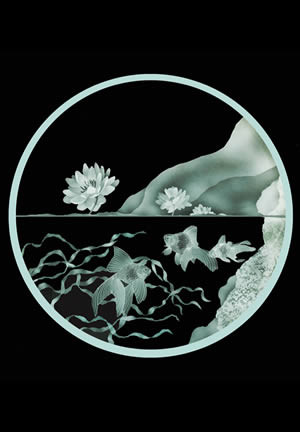 I was recently commissioned to design and create this etched glass window with fantail fish, lotus flowers, and lily pads for a beachside residence in the picturesque southern Orange County seaside town of Laguna Beach, California.
Read more: Etched Glass Window with Fantail Fish...
Details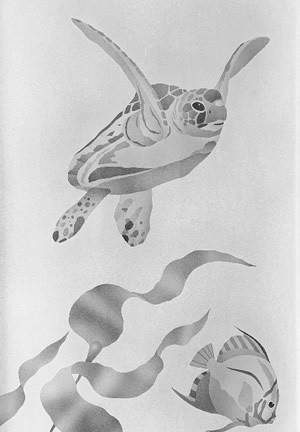 I was recently commissioned to create an etched glass sidelight for installation in the entryway of a home in Laguna Beach, California. The client wanted an etched glass window next to their front door which would provide privacy, and they wanted it decorated with an ocean themed scene. I explained that I had some designs where I could etch the background solid for privacy and shade in the designs to provide the level of privacy they were looking for.
Read more: Etched Glass Sidelight in Laguna Beach...
Details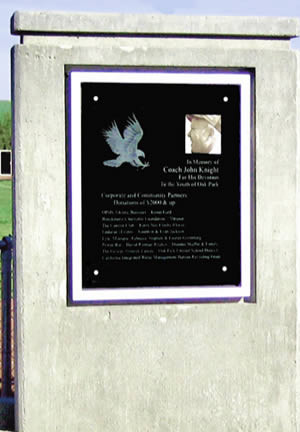 I was commissioned to design and create this etched glass memorial featuring black glass plaques to commemorate "Coach Knight", the long time football coach at Oak Park High School in Westlake Village area.
Read more: Commemorative Etched Glass Memorial...
Details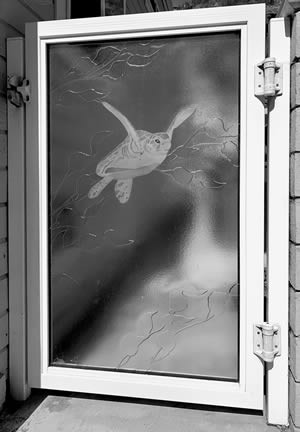 The people of coastal Orange County - including Laguna Beach - generally have a deep appreciation of the ocean and all of its inhabitants. Throughout my career as a glass artist I have designed and created many unique and functional works of architectural art that tap into this sentiment, and this cast and etched glass gate panel is a one such example.
Read more: Etched and Cast Glass Gate Panel with...
Details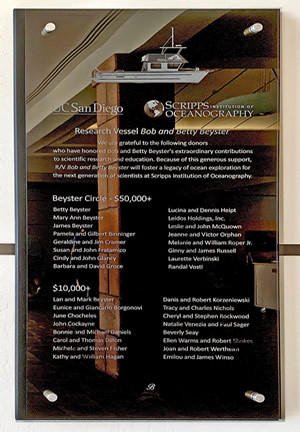 I was commissioned by the Scripps Institute of Oceanography to create this commemorative etched glass donor plaque for the Scripps Aquarium in La Jolla California. The display honors the donors who contributed to the research vessel Bob and Betty Beyster to foster a legacy of ocean exploration for the next generation of scientists at the Institute.
Read more: Etched Glass Donor Plaque for Scripps...
Details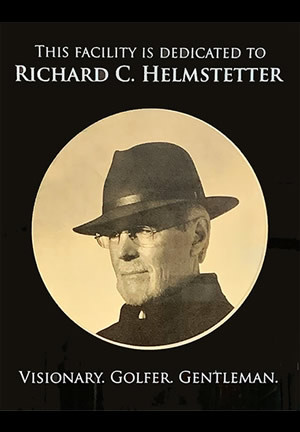 I was recently commissioned to design and create a large commemorative etched glass plaque at The Bridges Golf Center at The Bridges Country Club in Rancho Santa Fe.
The Bridges at Rancho Santa Fe
A private golf and country club in the heart of Rancho Santa Fe.
Imagine a private retreat, nestled among the citrus groves, rolling foothills and lush fairways of Southern California. Picture a place of connections, camaraderie, competition and ease from the pace of life - an idyllic environment for a gracious way of living.
The plaque is to commemorate Richard C. Helmstetter of Callaway Golf fame, known by some as "The Mad Scientist of Golf". As Senior Executive Vice President of the Callaway Golf Company, Mr. Helmstetter was a principal figure in the company that revolutionized the golf world:
Read more: Etched Glass Plaque Commemorating...