Details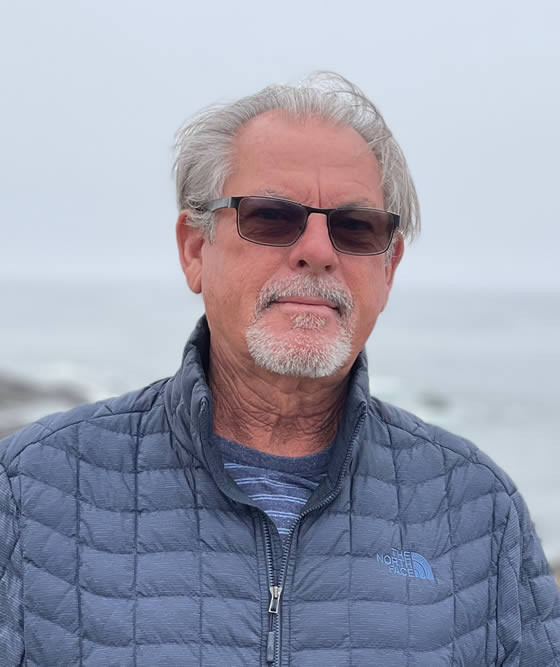 Meet Jay Curtis, Glass Artist
"Glass has always been magical to me, in its fragility and brilliance. As sun passes through an etched glass or cast glass panel, light refracts and diffuses, its color reflecting nature. It is like no other material. This is what draws me to it."
My fascination with glass started in the early fifties when I first saw a glass "cat's eye" marble while playing with friends. Having grown up in a small town in New England, my house bordered on the nearby woods. At a young age I gained an appreciation of the beauty of nature and a fascination with all forms of wildlife. The second half of my life has been spent on the west coast, furthering and enriching my appreciation for the diversity of nature. I have lived in small coastal towns bordering the Pacific Ocean for the last forty five years. I am also greatly inspired by the ocean and all its life. This appreciation has translated itself into many of my wildlife and nature designs.
For almost five decades from my studio by the coast, I have been creating glass art. Through the mediums of etched, sandblasted and cast glass, the elements of nature are reflected in my glass creations.
My glass studio, Art Glass and Metal, was founded in 1978 in Leucadia, California. In the backyard of our house we had a horse and a tac shed. I cleared the hay and saddles out and began etching in the shed. I still have fond memories of starting out that simple. Most of my early works were etched and sand carved glass designs. Architectural Glass Design was my primary focus. While initially designs were traditional by nature, what soon followed was an exploration into geometric and cursive abstract design. I have a real appreciation of simple and creative Bauhaus design.
Over the years and hundreds of residential and commercial commissions later, the techniques of water-jet cutting, beveling, glue chipping and cold and hot casting of glass have evolved and made my artwork grow and expanded my design capability while at the same time kept my art/craft increasingly interesting. I enjoy working with clients to solve their custom glass design needs.
I look back and realize I have not worked for anybody else for over forty years now except for myself in my small coastal studios enjoying independence and freedom of design. I have substituted the playing with friends and our marbles to golfing with friends but I still remember the amazing visual of light passing though that "cats eye marble" to this very day.
Thanks for stopping by,
Jay Hoyt Curtis
---
Print Media Coverage:
click to see the articles full screen