Details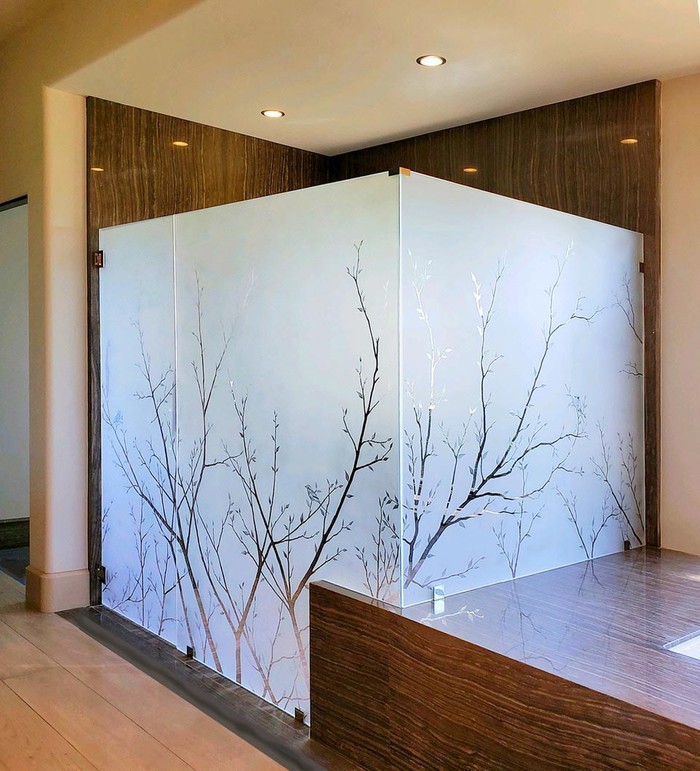 Etched Glass Shower Enclosure with Tree Branch Motif
This custom etched glass shower stall was a challenge to create something with an eye catching natural allure for a space that was predominately full of right angles. It had to complement the existing setting without looking out of place, so for this reason I chose a simple tree branch motif that would not overpower the otherwise simple yet elegant design of this bathroom.
The shower consists of three panes of simple flat tempered glass that have been etched (sandblasted) to instill a sense of privacy and create soft, refracted light. After this etching process, the only remaining areas of glass that can still be seen through clearly are the tree branches.
The whole assembly was created to install seamlessly with the existing bathroom countertop and shower layout. I believe that this tree motif goes very well with the existing dark wood paneling, creating a space this has an elegant yet natural feel to it, and I know that the owners of this home agree.
Etched Glass Veterans Memorial...

2021-08-17

This etched glass veterans memorial was designed and fabricated for installation at the Na...

Read more about this project

Huge Black Glass Photo Etching...

2020-02-08

Very Large Photo Etching by Art Glass and Metal I created this custom large format photo ...

Read more about this project

Etched and Cast Glass Gate Pan...

2021-03-24

The people of coastal Orange County - including Laguna Beach - generally have a deep appre...

Read more about this project

Ocean Wave Shower Divider in E...

2020-08-21

Glass ocean wave shower divider made by waterjet cutting and etching Jay created this mas...

Read more about this project

Metal Sculpture of a Sakura Tr...

2019-03-15

Water Jet Cut Metal Sculpture by Art Glass and Metal Studio I was commissioned to create ...

Read more about this project

Etched Glass Shower Enclosure ...

2019-05-22

This custom etched glass shower stall was a challenge to create something with an eye catc...

Read more about this project

Cast Glass Hawaiian Wave Break...

2021-06-08

This giant glass Hawaiian wave began life as a hand drawn illustration by the artist Jay C...

Read more about this project

Etched Glass Seascape Backspla...

2022-07-12

A Wave Crashes Into This Custom Etched Glass Breaking Wave Backsplash Meanwhile a Seal an...

Read more about this project