Details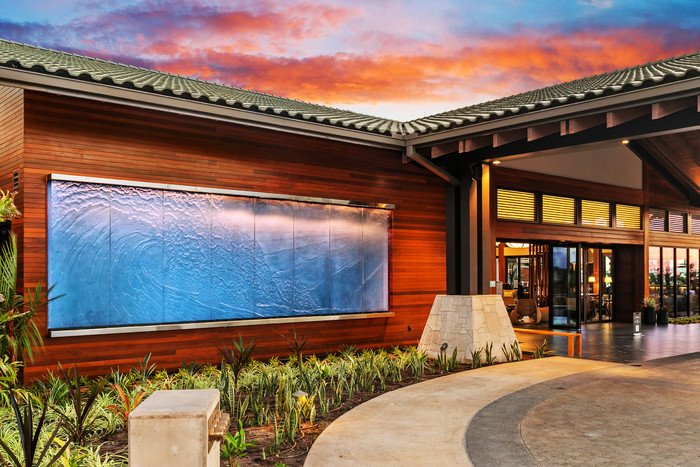 Cast Glass Hawaiian Wave Breaking Across a Wall of Glass Panels
This giant glass Hawaiian wave began life as a hand drawn illustration by the artist Jay Curtis. It was custom built right here in Carlsbad, California from Jay's original design for installation at a resort hotel in the Hawaiian islands.
This stunning glass artwork exemplifies the power of a breaking wave coming in from the left, while the negative space to the right depicts a building swell approaching from the horizon. The feeling of being inside the barrel of a wave comes to life for anyone who has experienced it for real, as well as those with vivid imaginations.
It is made from cast and tempered glass, and it was designed by Jay Curtis of Art Glass and Metal Studios and fabricated with Greg Gomolka of Experience Glass Studios. The overall dimensions of the wall are 8 feet tall and 24 feet long, and it is constructed of eight separate glass panels that stand side by side.
It is lighted at night by LED wash lighting. The panels sit inside a stainless steel channel and the glass itself is 12" out from the wall.
Contact Jay here to talk about your own glass project.
---
Gallery:
Etched Glass Backsplash with S...

2021-09-02

An Etched Glass Backsplash with a Tranquil Aquatic Scene I was commissioned to design and...

Read more about this project

Etched Glass Sidelight in Lagu...

2021-03-30

I was recently commissioned to create an etched glass sidelight for installation in the en...

Read more about this project

Etched Glass Donor Plaque for ...

2021-03-18

I was commissioned by the Scripps Institute of Oceanography to create this commemorat...

Read more about this project

Huge Black Glass Photo Etching...

2020-02-08

Very Large Photo Etching by Art Glass and Metal I created this custom large format photo ...

Read more about this project

Seals Swimming in a Kelp Fores...

2021-06-07

I was recently commissioned to create a pair of custom etched glass sidelights that I titl...

Read more about this project

Etched Glass Shower Enclosure ...

2019-05-22

This custom etched glass shower stall was a challenge to create something with an eye catc...

Read more about this project

Cast Glass Sea Kelp Window wit...

2018-03-07

Cast Glass wall sculptural piece titled "Sea Kelp Window with Bubbles" This sea kelp wind...

Read more about this project

Cast Glass Hawaiian Wave Break...

2021-06-08

This giant glass Hawaiian wave began life as a hand drawn illustration by the artist Jay C...

Read more about this project