Details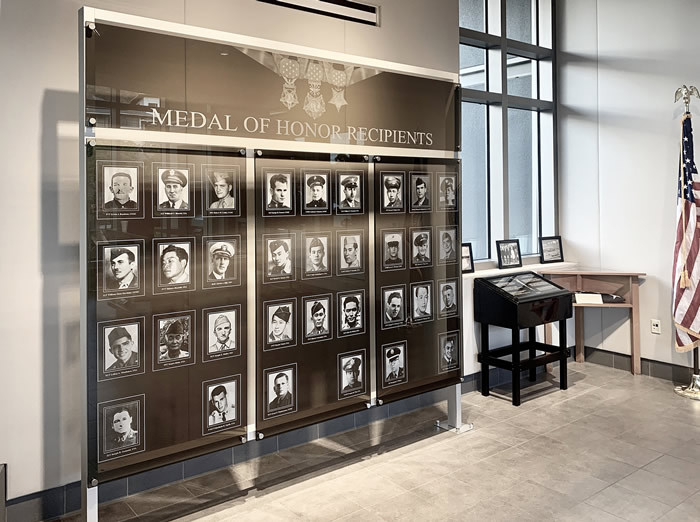 Etched Glass Veterans Memorial Designed for the National Cemetery of the Pacific
This etched glass veterans memorial was designed and fabricated for installation at the National Cemetery of the Pacific on the island of Oahu in the Hawaiian Islands. The memorial consists of etched photographs of the 33 Medal of Honor recipients who are buried there. There are 4 large warm bronze panels standing of of a metal framework.
The overall size of the piece is 8 feet tall by 8 feet wide. Along with the 33 etched photos are the 3 Medal on Honor Medals for the Army, Navy and Air Force etched onto the large top bronze glass panel.
The setting for the Memorial and cemetery is really impressive. The grounds are in the bowl formed out of the top a volcano right on the outskirts of Honolulu itself. The site looks down on the Pacific Ocean, the city of Honolulu and Pearl Harbor. It was really an honor and a privilege to be given the commission on this project. I am a combat disabled veteran and it was a very emotional project for me, especially on the tour of the entire grounds we were given by the director. I urge anyone who goes to Honolulu to visit this incredible National treasure.
This project was a collaboration between myself at Art Glass and Metal Studios and Experience Glass Studios. We have worked on many projects together over the years and do amazing seamless projects together utilizing both our talents.
---
Etched Glass Veterans Memorial Photo Gallery:
Etched Glass Plaque Commemorat...

2021-03-11

I was recently commissioned to design and create a large commemorative etched glass p...

Read more about this project

Huge Black Glass Photo Etching...

2020-02-08

Very Large Photo Etching by Art Glass and Metal I created this custom large format photo ...

Read more about this project

Etched Glass Sidelight in Lagu...

2021-03-30

I was recently commissioned to create an etched glass sidelight for installation in the en...

Read more about this project

Cast Glass Ocean Wave Courtyar...

2019-04-13

Custom Designed Courtyard Gate with a Cast Glass Ocean Wave Theme I designed and created ...

Read more about this project

Etched Glass Backsplash with S...

2021-09-02

An Etched Glass Backsplash with a Tranquil Aquatic Scene I was commissioned to design and...

Read more about this project

Etched Glass Seahorse Themed S...

2020-05-22

This client wanted an etched seahorse themed panel for a shower stall. I was given some le...

Read more about this project

Waterjet cut metal wall sculpt...

2018-03-07

Custom designed and manufactured waterjet cut metal wall sculpture This waterjet cut meta...

Read more about this project

Etched Glass Bathroom Wall Div...

2022-03-30

An Attactive Etched Glass Bathroom Wall Divider That Evokes Stone and Water I create...

Read more about this project