Details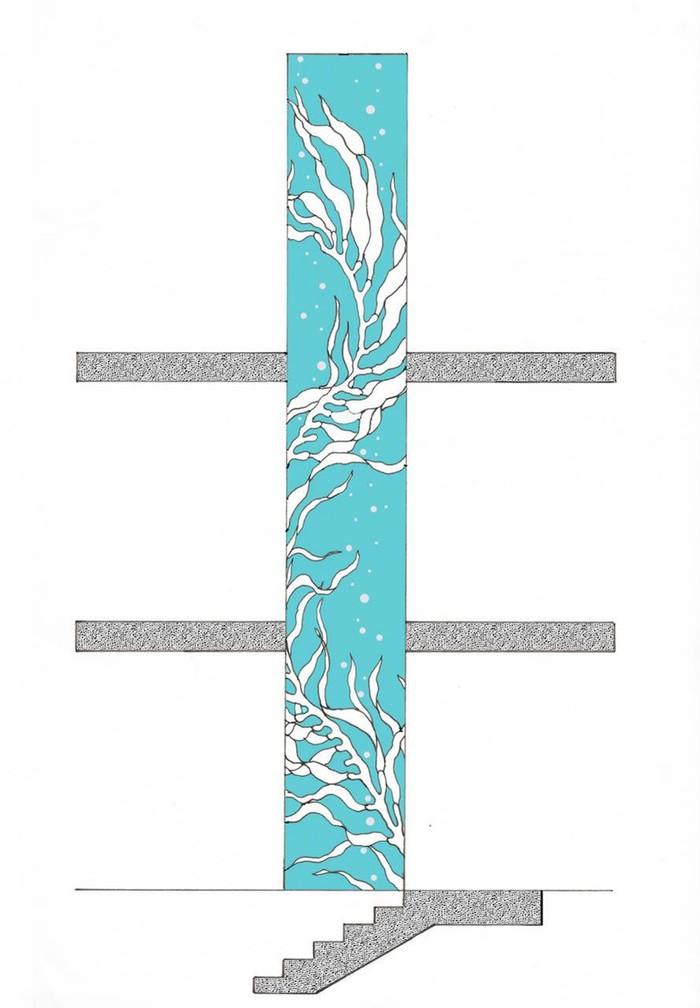 Cast Glass Sea Kelp Window with Bubbles
Cast Glass wall sculptural piece titled "Sea Kelp Window with Bubbles"
This sea kelp window is not really a window but rather a purely sculptural piece just for art's sake. It is inset into the wall of a stairwell, and is seen as you walk down the flights of stairs between floors of the residence.
The piece is sixteen feet tall and faces a window with a view to the outside of the home. Outside of the window is a planter with lush green foliage, which will show through as a muted green image as you look through the textured cast glass. The home's owners are quite fond of the look and have received many compliments on its gorgeous appearance.
This type of beautiful art glass design is perfectly suited to add ambiance to any setting, indoors or out. Contact me today to discuss your ideas for a cast and/or etched glass project.
Etched Glass Donor Plaque for ...

2021-03-18

I was commissioned by the Scripps Institute of Oceanography to create this commemorat...

Read more about this project

Etched Glass Veterans Memorial...

2021-08-17

This etched glass veterans memorial was designed and fabricated for installation at the Na...

Read more about this project

Etched Glass Seahorse Themed S...

2020-05-22

This client wanted an etched seahorse themed panel for a shower stall. I was given some le...

Read more about this project

Large Metal and Glass Barn Doo...

2020-05-27

I created these large metal and glass barn doors to give optional privacy between a large ...

Read more about this project

Seals Swimming in a Kelp Fores...

2021-06-07

I was recently commissioned to create a pair of custom etched glass sidelights that I titl...

Read more about this project

Metal Sculpture of a Sakura Tr...

2019-03-15

Water Jet Cut Metal Sculpture by Art Glass and Metal Studio I was commissioned to create ...

Read more about this project

Huge Black Glass Photo Etching...

2020-02-08

Very Large Photo Etching by Art Glass and Metal I created this custom large format photo ...

Read more about this project

Cast Glass Hawaiian Wave Break...

2021-06-08

This giant glass Hawaiian wave began life as a hand drawn illustration by the artist Jay C...

Read more about this project