Details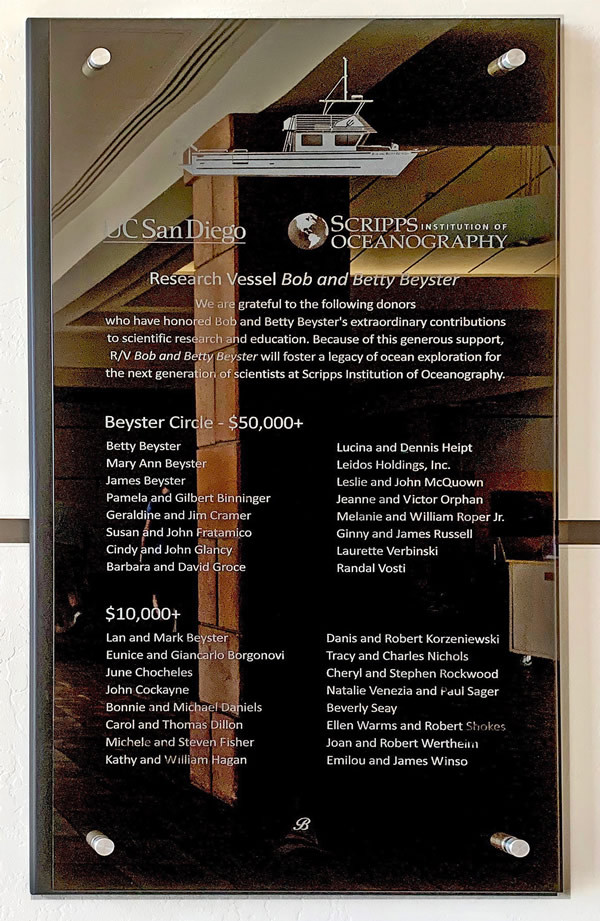 Etched Glass Donor Plaque for Scripps Aquarium in La Jolla California
I was commissioned by the Scripps Institute of Oceanography to create this commemorative etched glass donor plaque for the Scripps Aquarium in La Jolla California. The display honors the donors who contributed to the research vessel Bob and Betty Beyster to foster a legacy of ocean exploration for the next generation of scientists at the Institute.
The Research Vessel Bob and Betty Beyster is a purpose-built coastal research vessel designed for efficient operations offshore Southern California and throughout the Channel Islands. Operated by Scripps Institution of Oceanography from our home port (the world-class Nimitz Marine Facility in Point Loma), Bob and Betty Beyster is a shared-use research facility that is available for use by scientists, engineers, students and educators supported by federal, state, local and non-governmental agencies.
Read more about donor support for R/V Bob and Betty Beyster.
R/V Bob and Betty Beyster is a general-purpose oceanographic research vessel constructed by Armstrong Marine in Port Angeles, WA and delivered to Scripps Oceanography in 2019. This vessel was made possible by generous support in honor of Dr. J. Robert Beyster, founder of Science Applications International Corporation (SAIC), and his widow Betty Beyster (see story linked here).

Bob and Betty Beyster features a dynamic positioning system (DPS) that integrates GPS navigation data with propulsion controls to automatically maintain heading and position, even in strong currents and windy conditions. This capability, previously available only on much larger oceanographic research ships, allows Bob and Betty Beyster to conduct scientific operations requiring precise stationkeeping never before possible on a coastal research boat. This, in conjunction with the boat's capable navigation and propulsion systems, enables precise vessel handling required for CTD casts, open-ocean instrument mooring placement, remotely-operated vehicle deployments, and other scientific operations that require reliable stationkeeping.
The glass donor plaque display was created using bronze glass with pigmented lettering and imagery for extra visual impact. It is mounted on the wall of the main entry room of the aquarium and is visible to all who enter this esteemed institution.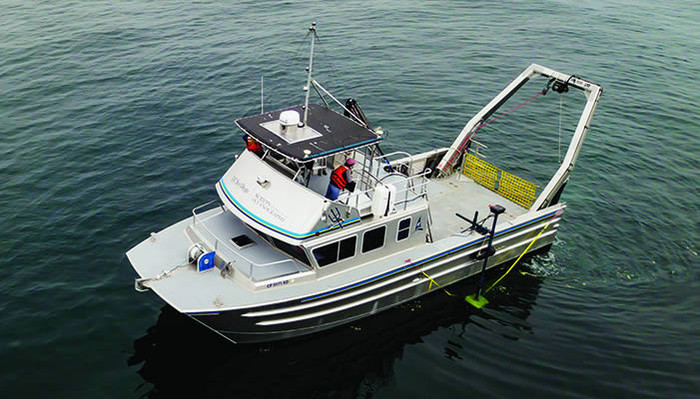 Etched Glass Backsplash with S...

2021-09-02

An Etched Glass Backsplash with a Tranquil Aquatic Scene I was commissioned to design and...

Read more about this project

Waterjet cut metal wall sculpt...

2018-03-07

Custom designed and manufactured waterjet cut metal wall sculpture This waterjet cut meta...

Read more about this project

Huge Black Glass Photo Etching...

2020-02-08

Very Large Photo Etching by Art Glass and Metal I created this custom large format photo ...

Read more about this project

Seals Swimming in a Kelp Fores...

2021-06-07

I was recently commissioned to create a pair of custom etched glass sidelights that I titl...

Read more about this project

Cast Glass Hawaiian Wave Break...

2021-06-08

This giant glass Hawaiian wave began life as a hand drawn illustration by the artist Jay C...

Read more about this project

Cast and Etched Glass Dolphin ...

2018-03-07

Etched glass dolphins on a cast glass privacy wall I designed and produced this wonderful...

Read more about this project

Large Metal and Glass Barn Doo...

2020-05-27

I created these large metal and glass barn doors to give optional privacy between a large ...

Read more about this project

Etched Glass Donor Plaque for ...

2021-03-18

I was commissioned by the Scripps Institute of Oceanography to create this commemorat...

Read more about this project