Details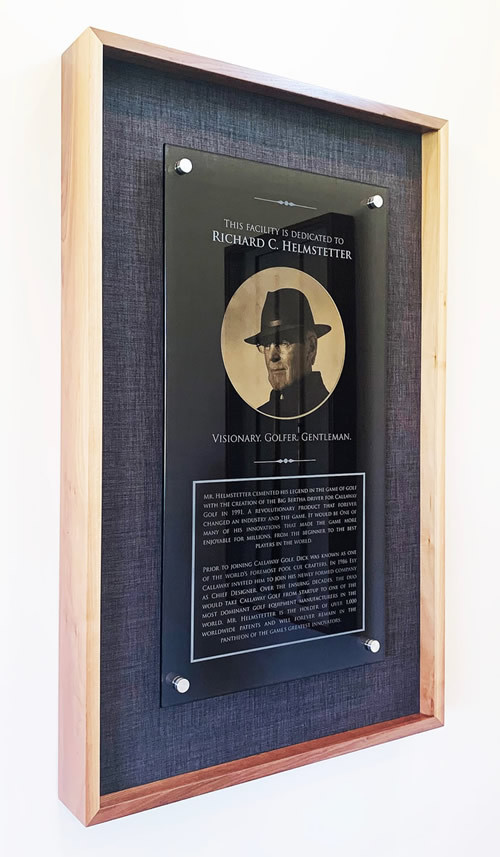 Etched Glass Plaque Commemorating Richard Helmstetter of Callaway Golf
I was recently commissioned to design and create a large commemorative etched glass plaque at The Bridges Golf Center at The Bridges Country Club in Rancho Santa Fe.
The Bridges at Rancho Santa Fe
A private golf and country club in the heart of Rancho Santa Fe.
Imagine a private retreat, nestled among the citrus groves, rolling foothills and lush fairways of Southern California. Picture a place of connections, camaraderie, competition and ease from the pace of life - an idyllic environment for a gracious way of living.
The plaque is to commemorate Richard C. Helmstetter of Callaway Golf fame, known by some as "The Mad Scientist of Golf". As Senior Executive Vice President of the Callaway Golf Company, Mr. Helmstetter was a principal figure in the company that revolutionized the golf world:
Helmstetter is a genius, for sure. If you're into golf, he's the man behind those gigantic drivers that changed the game when Callaway Golf introduced the aptly named Big Bertha. Since the creation of that particular club, drivers have become larger and larger and their design has changed from the humble persimmon woods in the heyday of Jack Nicklaus and Arnold Palmer to the modern materials of titanium and carbon fiber that almost every professional and amateur golfer uses today.1
The finished etched glass plaque measures 30" by 48" and is etched on bronze tempered glass and stained with gold to give it a rich, warm appearance befitting a true pioneer in the golf industry. It was created to ensure that Mr. Helmstetter's legacy will continue to inspire not only golfers, but all visitors to this beautiful Southern California location.
1 Quoted from Photography One On One
Cast Glass Ocean Wave Courtyar...

2019-04-13

I designed and created this cast glass courtyard gate with a breaking ocean wave...

Read more about this project

Commemorative Etched Glass Mem...

2021-03-24

I was commissioned to design and create this etched glass memorial featuring black glass p...

Read more about this project

Cast Glass Hawaiian Wave Break...

2021-06-08

This giant glass Hawaiian wave began life as a hand drawn illustration by the artist Jay C...

Read more about this project

Etched Glass Sidelight in Lagu...

2021-03-30

I was recently commissioned to create an etched glass sidelight for installation in the en...

Read more about this project

Etched Glass Shower Enclosure ...

2019-05-22

This custom etched glass shower stall was a challenge to create something with an eye catc...

Read more about this project

Large Metal and Glass Barn Doo...

2020-05-27

I created these large metal and glass barn doors to give optional privacy between a large ...

Read more about this project

Waterjet cut metal wall sculpt...

2018-03-07

Custom designed and manufactured waterjet cut metal wall sculpture This waterjet cut meta...

Read more about this project

Etched Glass Seascape Backspla...

2022-07-12

A Wave Crashes Into This Custom Etched Glass Breaking Wave Backsplash Meanwhile a Seal an...

Read more about this project