Details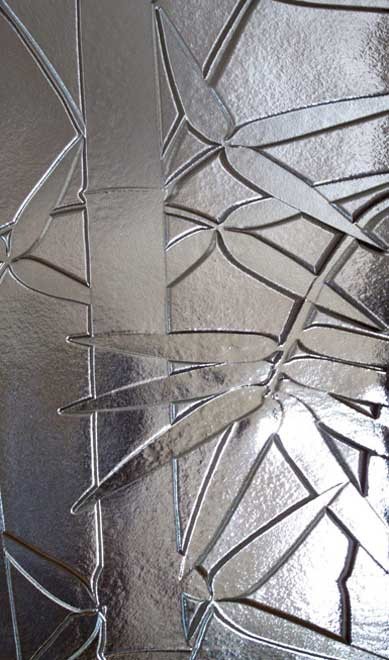 Cast And Slumped Architectural Art Glass for Windows, Doors, Gates, Room Dividers, etc.
Art Glass are artworks that are designed and fabricated for decoration - and often also for utility - primarily from glass, though sometimes combined with other materials. Techniques include Stained Glass and Leaded Glass, Cast Glass, and Etched or Sand Blasted Glass. In general the term is restricted to relatively modern pieces made by we artists who have chosen to work in the medium of glass art, and both design and make their own pieces as fine art. "Studio Glass" is another term often used for modern glass made for artistic purposes.
Warm Kiln Glass Casting
Kiln formed glass is often referred to as warm glass, and can be either be made up from a single piece of glass that is slumped into or over a mold, or with different colors and sheets of glass fused together. Art glass that is kiln formed usually takes the form.
Cast, Slumped, Fused and Cold Casting of glass is the working of glass, usually for artistic purposes, by heating it in a kiln. The processes used vary depending on the temperatures reached, and range from fusing and slumping to casting and cold casting of glass.
Warm glass working uses a variety of processes, according to the working temperature and the time the glass spends at this temperature. The glass becomes progressively softer, less rigid and less viscous with temperature. Kiln-worked glass responds slowly, and so the amount by which this affects the glass depends on the time it spends at working temperature.
There are three main processes, with variations within them. The broad process depends on the temperature and the variation within it depends on the time and also on slight variations of temperature.
Types of Glass Slumping and Casting Processes Include:
Cold Casting
Cold Casting is done by Sand Carving a design into a sheet or piece of glass prior to kiln firing it. The temperature is brought up to the point where the glass just starts to melt, but not enough to lose the detail of the original sandblasted design. I have designed and fabricated projects where I have sand carved, fired and etched the detail of a design to achieve a desired effect in my design concepts.
Slumping
The glass deforms in shape, becoming flexible but still retaining its approximate solid form. A mold is made to slump the heat-softened glass into the recesses, creating a three-dimensional smooth relief.
Fusing
Fusing is the use of heat to join the glass by fusion welding, either with or without an associated change in shape, depending on the temperature.
The glass retains its shape, but becomes sticky and adjacent glass pieces join together. This is the process for making thick cast glass countertops and table tops. Color is added by using colored powders between the fused layers.
Common Uses for Cast and Slumped Glass
Slumped or cast glass is often used for architectural and design elements in both residential and commercial settings, both indoors and outdoors. Some common examples include:
Cast Thick Glass Countertops for Kitchen or Bath
Cast Glass Shower Stalls and Bath Dividers
Slumped or Cast Glass Window Panels for Beauty and Privacy
Slumped or Cast Glass Room Divider Panels for Beauty and Privacy
Slumped or Cast Glass Outdoor Gates, with or without Metal Frames
Slumped or Cast Glass Doors and Door Panel Inserts
---
Some Examples of Jay's Cast Glass Designs:
(click any image to go to the Gallery)