Details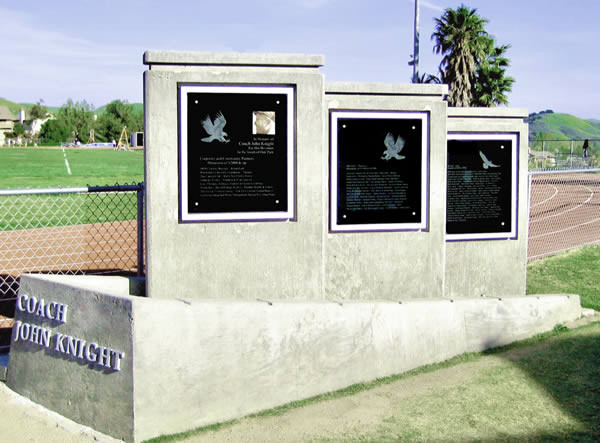 Commemorative Etched Glass Memorial Plaque Art for Coach John Knight
I was commissioned to design and create this etched glass memorial featuring black glass plaques to commemorate "Coach Knight", the long time football coach at Oak Park High School in Westlake Village area.
The type and eagles are etched into the glass depicting the school mascot, the eagle. Each plaque is enclosed inside a stainless steel case to protect it, and these cases are cast into concrete.
The etched glass memorial sits just outside the oval running track where Coach Knight trained countless young athletes over the years. My goal was to create a long standing memorial that will memorialize Coach Knight for generations to come, and I think we succeeded quite nicely!
Jay
Huge Black Glass Photo Etching...

2020-02-08

Very Large Photo Etching by Art Glass and Metal I created this custom large format photo ...

Read more about this project

Etched Glass Donor Plaque for ...

2021-03-18

I was commissioned by the Scripps Institute of Oceanography to create this commemorat...

Read more about this project

Metal Sculpture of a Sakura Tr...

2019-03-15

Water Jet Cut Metal Sculpture by Art Glass and Metal Studio I was commissioned to create ...

Read more about this project

Commemorative Etched Glass Mem...

2021-03-24

I was commissioned to design and create this etched glass memorial featuring black glass p...

Read more about this project

Cast Glass Hawaiian Wave Break...

2021-06-08

This giant glass Hawaiian wave began life as a hand drawn illustration by the artist Jay C...

Read more about this project

Etched Glass Veterans Memorial...

2021-08-17

This etched glass veterans memorial was designed and fabricated for installation at the Na...

Read more about this project

Cast Glass Surfboard Wall Art...

2020-05-22

Hand Made Cast Glass Surfboard Wall Art Custom Designed and Produced by Jay Hoyt Curt...

Read more about this project

Etched Glass Backsplash with S...

2021-09-02

An Etched Glass Backsplash with a Tranquil Aquatic Scene I was commissioned to design and...

Read more about this project