Details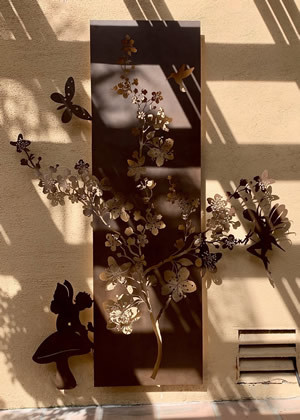 Custom Designs for Metal Doors, Metal Gates and Entryways, and Metal Artworks
I use metal in many ways to both mount and support my glass work. This can be as simple as metal standoff bases to mount glass panels onto walls, or galvanized posts to support some of my cast and etched gate panels.

I first started working with metal years ago, designing metal bases to support some of my glass pieces designed as garden art. Sometimes I venture outside of my comfort zone of glass design when certain clients who have seen my glass work ask me to design metal artworks for them.
Nearly endless possibilities for fascinating metal designs
Clients have asked me to design and fabricate all metal gates (without any glass involved), figuring that if I could be successful at art glass design, I could also design and fabricate objects from metal as well. I usually take on the challenge as a chance to do something out of my normal scope. I have designed wrought iron gates with shell and nautical motifs, and used bronze sheet metal images that are water jet cut and then acid etched to put detail into the figures before being assembled into the gate itself.
Utilizing metal structures that incorporate custom art glass for doors, gates, and entryways allows a designer to blend beauty and functionality by allowing ambient light to pass through while maintaining security and privacy. My ability to utilize a combination of metal working, glass casting, slumping, and etching is a big reason I can create stunning metal and glass products that are custom tailored to your setting and your needs.
My art glass designs come alive when paired with metal
By itself glass is often used as the sole material for doors (aside from metal fixtures such as hinges, knobs, and latches), but when combined with custom manufactured metal structures, a metal and glass artwork can become the centerpiece of a unique design that is custom tailored to your needs and tastes.
Exterior Gates with metal frameworks are an attractive option for swimming pool enclosures, backyard gates, carport entries, and almost any other exterior gateway imaginable.
Metal framed doors or all glass doors with metal fixtures are perfect for store fronts and corporate entryways, often incorporating business logos in etched or sandblasted glass.
Entryways and Foyers: Not only the door or gate, but the whole area surrounding the entryway is a great place to utilize art glass for its translucence, beauty and durability.
Artistic nature themes in glass such as wildlife and ocean scenes are often paired with unique metal sculptures, for indoors or out.
Provide me with your own design or have me design something special for you
I often work with architects, interior designers, and remodeling experts to craft unique desgins that deliver a unified look with perfect fit and finish to nearly any type of project. Whether it's your own design or something I create for you, you can be assured that the finished product will be all you envisioned and more!
Working with metal is a perfect compliment to my abilities with glass and enables me to dabble in another medium. While not my primary focus, I do enjoy the process, and I would love to hear from you regarding your project. Give me a call to discuss your ideas - I look forward to working with you!
Sincerely,
Jay
---
Some examples of various metal pieces:
(click any image to go to the Gallery)

My latest metal sculpture: